I decided to post my attempts at this build on this forum as it seems there are no constraints on size, so bare with me here as this build will take quite a bit of modification of procured components as well as typical fabrication of the two columns. What your going to see may at first give you a feeling of disbelief that it cant be done however, perseverance and consideration will overcome all of the obstacles I'll face in time. That, and perhaps some help with you folks. So this is what I'm starting with;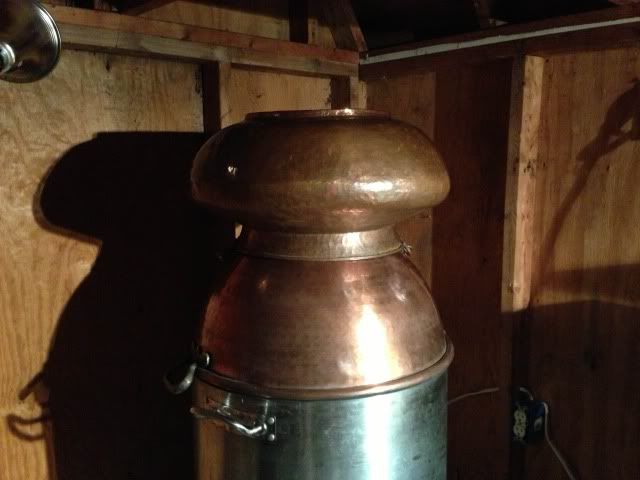 I plan to add a collar between these two components (the kettle and the dome) flaring the collar with a planishing hammer and adding a 10" ferrule to the bottom of the collar joining the dome to expansion chamber by tri-clamp and be able to remove the top component (the Kettle or Expansion Chamber if you will ) for storage. This expansion chamber and its parent member (the dome top) will be the primary components to the still but will actually be the second phase to this build.
Before getting into the fabrication of the collar and joining it to the chamber and flange, the column build should be considered as the diameter of the expansion chamber's collar and mounting ferrule will be a much larger diameter than the column. In this regard I could in essence start using the column and then modify the dome to accommodate the expansion chamber after fabrication on that component has been completed. Basically, I'll simply cut off the column and re-cut the dome to accept the 10" ferrule and braze it in.
This column will have only 4 plates with disabling valves and 3" site glasses. I'm planning on using the sight glass kits from SD. The plates will have bubble caps, weirs and the plate disabling features using OD's design of the Mk II.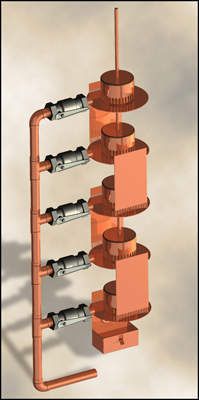 Many other detail features will be used from his build as well. Originally I considered my column to be a 6". I ordered my sheet (24"x 36" w/.97 thickness). This is a stout piece of material @ 11 ga. and in retrospect I probably could have gotten away with 12 ga. I would have used DWV but finding a section less than 20ft. was impossible, not to mention much more expensive.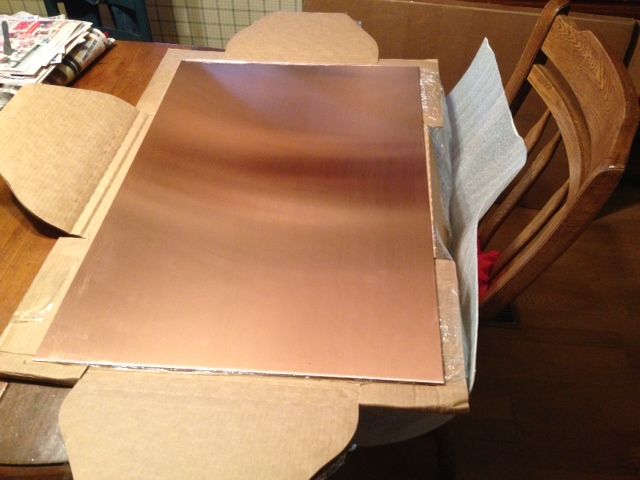 So here we are! I plan to lay out my sheet @ 6" for the defleg. (though the defleg. will only be 4"), and sight glasses 6" on center. This will give me just enough room at the bottom for collection of re-fluxed liquid to drain back to my pot. I have access to several different fab shops to perform various tasks for me regarding rolling, laser cutting/welding and I will perform many other tasks myself such as fabricating the collar for the expansion chamber, plate tree and product condenser fabrication and plumbing. I also plan a stainless mounting table to accommodate the two components Column and product condenser as well as the third component a re-flux column for neutral. will be fabricated of stainless with exception of the shotgun condenser with will have copper internals. The Table pieces will be cut and bent by power brake by one of the fab shops. In all I expect this build to cost a small fortune. I've gathered about 60% of the fittings I'll need, and together with what you see, the copper bowl dome (21-1/2" diameter), the kettle top I'll use as modified and column plate along with fitting.
First question. With all of the above being considered, do I settle for mediocrity and go with a 6" column, or go for the gusto and use the complete 24" for circumference with will give me a 7.65 diameter column? Roughly 7-1/2"
Second, is there any thing I'm missing here? Another well known individual and I have been batting these ideas back and forth for a spell and Myles I appreciate your input. I'm sure there will be more questions along the way.
Roughly, what will the end result I'm shooting for look like Though not so glamorous?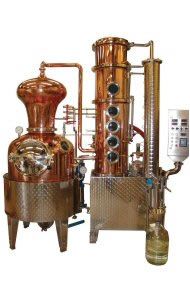 Yeah yeah... I know......
so much detail in fabrication. It'll be a night mare but in the end, worth the trip I hope.
OK let er rip...